Elementary Schools
The Saskatoon Symphony Orchestra (SSO) values music and music education by offering an entertaining and interactive Symphony in Schools program.
The In School Concerts feature an ensemble of SSO musicians performing inspiring programs designed specifically for elementary students. Concerts are shaped with themes in mind that provide action, narration, and orchestra interplay followed by a question and answer session.
Students experience great live music while observing talented professional musicians.
A pre-concert education package consisting of teacher lesson plans and student activities is made available to your school. Included are suggestions which connect the Saskatchewan Arts Curriculum (music, art, dance, drama) with elementary classroom instruction
High Schools
The SSO invites your class or group to take part in an engaging, interactive program in which secondary students could experience:
A chamber ensemble
A master class on a specific instrument
Detailed information on literature and composers.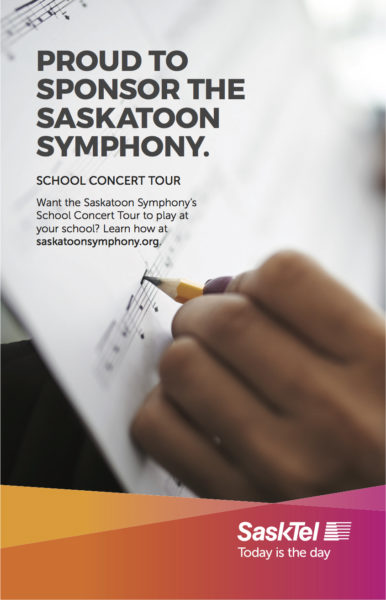 The SASKATOON SYMPHONY ORCHESTRA is pleased to continue our outreach program for schools in Saskatoon.
Professional musicians will come to your school and engage students in an educational/musical performance. Our goal is to educate, inspire, and encourage people of all ages in the enjoyment of music. Students are given the opportunity to experience live classical music in a familiar venue—their school.
This year the SaskTel Symphony in Schools program features the Saskatoon Symphony Wind Quintet consisting of oboe, clarinet, flute, bassoon, and French horn….and a special guest!
Interested schools will be booked into the program on a first-come-first-served basis until all available dates are filled. Due to the generous support provided by SaskTel, the cost is a very low $275 + GST. Concert times are restricted to mornings on the available dates.
Our in-school educational programming would not be possible if it weren't for the support of SaskTel – thanks to their support nearly 20,000 students hear live professional classical music in their school!
Available booking dates this season
Dates have all been filled for spring 2020 – to inquire about potential fall 2020 shows, please email us!
Our 2020 School Tour is a very special celebration of Beethoven's 250 Birthday!
Please contact Matthew for questions about SaskTel Symphony for School 2020/2021 – outreach@saskatoonsymphony.org