Have you ever tried something that terrifies you? Well, I did. I played the baroque oboe. In public.
My name is Erin Brophey, and I am the Principal Oboe player here with the SSO. It is a job that I treasure. It is my mission to serve my community by bringing as much beauty as I can to each and every concert.
With that personal goal in mind, I applied to attend the Tafelmusik Baroque Summer Institute in Toronto. Through the financial support of the Sask Arts Board, The Saskatchewan Orchestral Association, The University of Saskatchewan and the SSO, I had the opportunity to work with musicians from the world-renowned Tafelmusik Orchestra and to study the baroque oboe with John Abberger and Marco Cera.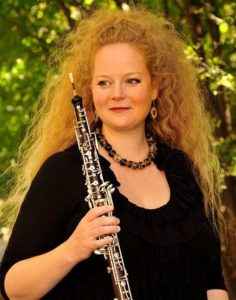 The program offers lectures, workshops, master classes, sectionals, lessons and opportunities to play in public concerts. I would attend countless concerts and essentially live in the 17th century for two weeks
I was terrified.
You may think, "What is the big deal? She is going to study baroque oboe and is an oboe player!" Well, let me inform you that the baroque oboe is NOTHING like the modern oboe I play. I have practiced for tens of thousands of hours to make my modern oboe feel like second nature. The baroque oboe feels completely different. Every musical habit that I have practiced on the modern oboe made the baroque oboe squeak. A lot!
Why would I do this to myself? My motivations were harmless enough: I was curious to learn how early music oboe players play baroque music. I had heard many beautiful recordings that were so different from my modern interpretations of the same repertoire. I wanted to know how they did it! I was intoxicated by the idea of looking at familiar music differently. At this point in my career, making musical discoveries feels so precious! I was excited to discover composers I had never heard of and uncover new musical gems.
The TBSI lived up to my expectations and more! The music proved to be fascinating and so very beautiful. Unfortunately, it wasn't beautiful the way I played it. Despite my best efforts, I could not wrestle that baroque oboe into submission. Both John and Marco were very encouraging. John would say to me every day "Well, Erin, it IS getting better…" But it was a long way from being beautiful. A LONG way.
When I first began studying the oboe, I had no expectations, no experience and no ego about my ability. On the baroque oboe, however, I brought all of my ego baggage with me. I CAN play all of the music that I was now destroying on the Baroque oboe. Yet every time I played, it was just a question of when I would squeak, squawk or miss notes. Sometimes entire passages would slip by with me sitting and struggling with just the first note!
But, you know what? I am so glad that I did it.
Make no mistake, my ego took a beating. I had to let go of my expectations and just take whatever came. In some cases, I would have an increase in acuity over the course of a piece. In others, I would slide so far backward, it felt like I had lost all ground.
I had forgotten how scary it can be to be out of control. When I had played the baroque oboe for one of my pithy students, she thanked me for demonstrating to her that I must have once been terrible on the modern oboe and clearly had practiced a lot. I am now much more empathetic to my lovely students.
I was not aware of my bias and came to realize that I interpreted Baroque music with modern ears. Looking back at historical records (treatises and artwork) and playing an actual replica instrument is very informative in demonstrating both its abilities and its limitations. For example, in the baroque era, the oboe had only two keys and was made of boxwood. It could only play in six different keys and had a sweet blend-y sound. Now I understand why so much baroque music is scored for doubled oboe and why it is so much more difficult to manage on the modern oboe.
I have a new appreciation for my modern oboe. Like any perfectionist, I can get caught up in the details of my playing. I can become obsessed with two bars of music as I struggle to get them exactly right. Too often, I have let these toils colour my enjoyment of playing. It is easy to forget that I can play 98% of the piece exceedingly well. Playing the baroque oboe reminded me of how much I can do on the modern oboe. Now, I feel like a superstar!
So, as it turns out, doing something hard is a worthwhile experience. I can't wait to begin a new SSO season and flex my new muscles on my modern oboe. I feel inspired, I feel engaged and I feel refreshed.
I encourage you to try something terrifying like attending the TBSI. It just might be a transformative experience!