The story of the ocean liner RMS Queen Mary is one whose length and grandeur nearly rivals that of the ship herself. On the day she was unveiled to the world, King George V of England proclaimed enthusiastically that "Today we come to the happy task of sending on her way the stateliest ship now in being. It has been the nation's will that she should be completed, and today we can send her forth no longer a number on the books, but a ship with a name in the world, alive with beauty, energy and strength! May her life among great waters spread friendship among the nations!"
The RMS Queen Mary sailed as a vessel of the Cunard Cruise Line from 1936 to 1967, a proud ocean liner that sped across the waves to deliver passengers from England to New York and back again. She held a nautical speed record unbroken for fourteen consecutive years, and after a lifetime of successful jaunts across the Atlantic now sits permanently moored as a historic hotel and tourist attraction in Long Beach California. Not a bad retirement for one whose career was as busy and exciting as that of the RMS Queen Mary. But what was it really like living aboard this luxurious cruise ship during her heyday? What were the amenities, what cuisine were passengers treated to, and what sorts of dignitaries and celebrities graced the deck of that mighty vessel?
Those brilliant individuals responsible for the Queen Mary's construction spared no expense in outfitting her with every amenity passengers of the day might require. Advertisements from the thirties proudly boast of the liner's features, which included "two indoor swimming pools, beauty salons, libraries and children's nurseries for all three classes, a music studio and lecture hall, telephone connectivity to anywhere in the world, outdoor paddle tennis courts and dog kennels." Many of the public rooms on board were air-conditioned, and it was rumored that the cabin-class swimming pool spanned over two decks in height! The ship itself boasted a massive cargo storage which accommodated scores of automotive vehicles, towered three stories in height, and was the first of its kind to be equipped with a Jewish prayer room.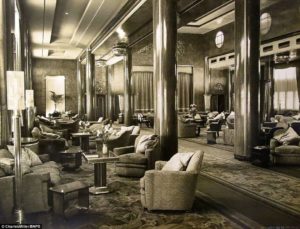 Cruising the oceans can produce in a person the most ferocious appetite, so its no surprise that Cunard sent world-class chefs aboard the RMS Queen Mary to prepare the finest delicacies for patrons to enjoy at breakfast, luncheon, and dinner alike. Had you been aboard the ship on June 6th, 1952, your breakfast options would have included Apples, Oranges, Stewed Figs, and assorted fruit juices. Eggs (Fried, Turned, Boiled, or Scrambled) accompanied by Broiled Breakfast Bacon and Home-made Brawn were followed by Buckwheat and Griddle Cakes drenched in Maple and Golden Syrup. Passengers were invited to partake of Soda Scones and a variety of coffees, as well as heavenly slices of Hovis Bread.
Starving passengers at lunch time on December 26th, 1940 were served Consomme Chiffonade, Potage Chesterfield, and hearty Beefsteak and Kidney Pie. Others dined upon Broiled Haddock with Sauce Robert, Baked Jacket and French-Fried Potatoes, and topped it off with a mouth-watering Sago Custard Pudding. Children on board (in addition to the menu items above) were given ample helpings of Ice Cream and Wafers as a special treat. But what of dinner? On August 8th, 1937, passengers of the Queen Mary who fancied an evening bite to eat tucked into Honey Dew Melon Frappe, Herrings a la Tomate, Byron Salmon, and Chicken Halibut with Sauce Victoria. Still others dined on Roast Quarters of Lamb with Mint Sauce, Sweetbread Croquettes St. Cloud, and Egg Plant Lyonnaise. No matter what era you spent aboard the RMS Queen Mary, you were always treated to the finest cuisine possible.
In the three years following her maiden voyage, word of the grand passenger experiences aboard the RMS Queen Mary quickly reached the ears of celebrities and royalty alike. Actor/comedian Bob hope and actor/dancer Fred Astaire both took a voyage aboard the RMS Queen Mary in 1939, and were followed soon after by British Prime Minister Winston Churchill. It is maintained that he signed the D-Day Declaration while onboard, and considered the ship his "headquarters while at sea." Nowadays, the Queen Mary hotel's restaurant, Sir Winston's is named after that famous dignitary (as is one of their luxury rooms, the Churchill Suite).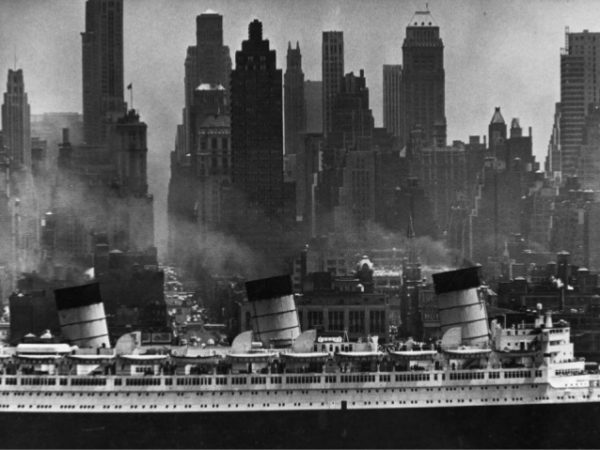 Singer Bing Crosby traveled overseas with the U.S.O aboard the RMS Queen Mary to boost troop morale during World War II, and Dwight Eisenhower sailed with his wife on the luxury liner on September 27th, 1946. Both Elizabeth Taylor and Clark Gable made the list of famous figures to grace the deck, with the former making outrageous demands in 1947 on behalf of her two poodles, and the latter delaying departure time by nearly 20 minutes in 1948 to bid adieu to his love interest who was a passenger. The then Duke & Duchess of Windsor (Edward VII & Wallis Simpson) used the ship for travel quite frequently and referred to the vessel as "their ship". Edward VII's mother was the namesake of the ship after all! The couple's favorite room, M58 on the Main Deck, was renovated and is now referred to as the Windsor Suite. Their voyage in 1948 saw them bring 120 pieces of luggage on board along with their dogs.  
In 1953, the actress Greta Garbo decided to return home from a trip abroad in Europe using the RMS Queen Mary, and the following year the deck was graced by The Queen Mother herself. 1957 saw Breakfast at Tiffany's star Audrey Hepburn travel aboard the vessel with her husband Mel Ferrer on their way to Europe for round two of a honeymoon. The RMS Queen Mary's final claim to having a brush with fame came ten years later, when Lynne Redgrave (the sister of actress Vanessa Redgrave) took part in the ship's final voyage to California. After a lifetime of dutiful service, it was decided that the RMS Queen Mary would live out the rest of her days in style. She entertains famous persons from across the globe to this day, and the dock at which she is permanently moored is protected indefinitely as a world heritage site. We salute you, RMS Queen Mary!